Yoga Feels Good with
Meenakshi Angel Honig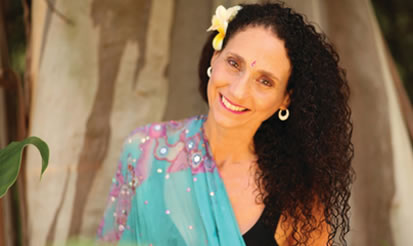 "Angel's Yoga instruction is gifted with simplicity, encouragement & the grace of a kind heart.
Let her 45+ years of teaching experience work for you! She is the real deal!"
Angel's Free Gift
108 Ways to Feel Better Ebook
by Meenakshi Angel Honig
"108 Ways to Feel Better is a book for enlightenment!"
– Dr. Deepak Chopra, NY Times bestselling author
Get your Free Gift Now!
The Soulution
Every bite we take is a vote for cruelty or lovingkindness, devastation or sustainability, disease or health, so let's choose wisely!
In The Soulution, Meenakshi Angel Honig rolls out a clear & compelling case to choose a plant-based diet, such as eliminating animal cruelty, ending starvation, reversing the climate crisis, preventing future pandemics, experiencing vibrant well-being & so much more!
Angel provides you with the information & inspiration that you need for implementation & transformation! She also includes her signature recipes, so making the transition is as easy as a "peace" of vegan pie! This book includes over 150 spectacular photos and is available in both black & white and in full living color!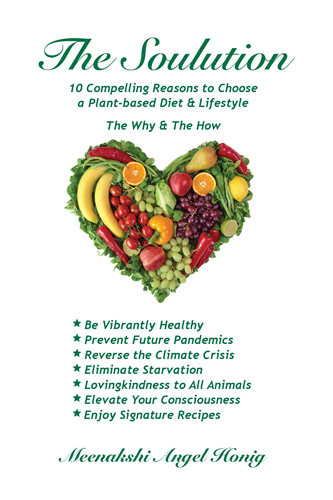 ~ Available in Color, Black & White & Kindle Ebook 
How Angel can support you in feeling your best and having your best to give!
Endorsements for Angel & her Products
"Meenakshi's crystal clear & precise instruction, her graceful demonstration & soothing voice make practicing Yoga an easeful, peaceful & blissful experience."
– Dr. Wayne Dyer, New York Times bestselling author of over 40 books
"Meenakshi's clear & peaceful presentation of Yoga, coupled with the glorious scenery of Maui, makes it so easy to feel good. I highly recommend it."
– Dr. John Gray MD, New York Times bestselling author of Men are from Mars, Women are from Venus
"Meenakshi's exemplary presentation will assist you in enjoying the process of optimizing your health and well being."
– Dean Ornish, MD, New York Times bestselling author of Reversing Heart Disease
"Meenakshi Angel is an exemplary Yoga Instructor, Wellness Consultant, Speaker and Author. I have known her for many years and we have taught retreats together. I know her to be both impeccable and to have extremely high integrity. She embodies Radiant Perpetual Positivity!"
– Mirabai Devi, Author of Samadhi' Essence of the Divine
"Meenakshi's Yoga instruction is gifted with simplicity, encouragement & the grace of a kind heart."
– Alan Cohen, Bestselling author of A Deep Breath of Life
"Certainly, it will Feel Good to learn & practice Yoga with Meenakshi."
– Sri Swami Satchidananda, World renowned Yoga Master, Founder of Integral Yoga International
Here is what Bestselling Authors have to say about Angel's Book
Feel Good Now ~ How to Feel Your Best & Have Your Best to Give
"Feel Good Now is one of the most significant books written during this time, because Meenakshi Angel Honig exquisitely distills ancient and modern wisdom into practical steps for personal and global transformation. Every page is a jewel. Partake of its treasures, and you will feel your best and have your best to give!"
– Marci Schimoff, #1 New York Times bestselling author of Happy For No Reason and Love For No Reason
"As we see increasing numbers of people questioning the official stories of western culture, we're benefitting from the ancient yogic wisdom traditions of the East. Feel Good Now is a beautiful expression of Angel Honig's liberating insights born of awakening to a higher understanding of healthy and compassionate living. Her vital perspective on the implications of our food choices is especially refreshing and significant. This book is a precious gift to our world, and would make a terrific gift for virtually anyone. Highly recommended!"
– Will Tuttle, Ph.D, bestselling author of The World Peace Diet

"Angel has always been one of the healthiest people I know–physically, emotionally and spiritually. We finally have all her secrets available in Feel Good Now. This is the best wellness book I have read, taking into account not just diet and exercise, but all of the many important factors that also contribute to emotional and spiritual health!"
– Sarah Taylor, bestselling author of Vegan In 30 Days and Vegetarian to Vegan
"It is with great joy that I welcome the release of Feel Good Now by my beloved friend, Meenakshi Angel Honig. I have known Meenakshi since she took her first Yoga class over forty years ago at the Berkeley, CA Integral Yoga Institute and have watched her become an impeccable and compassionate teacher of Yoga, a skillful guide to so many people seeking greater health, happiness and inner fulfillment. In this beautiful book, she shares her spiritual journey and the wisdom she has gleaned from a lifetime of study, practice and integrating the teachings into her daily life. Her teaching comes with the authenticity of personal experience and is imbued with her spirit of devotion, dedication and loving-kindness. The most profound philosophy is distilled to its essence and techniques are presented in such a clear, direct manner that one feels equipped and empowered to practice, confident in the positive benefits that will ensue. For all those who wish to Feel Good Now, this book will serve as a treasure of inspiration, instruction and guidance."
– Swami Karunananda, author of Awakening and Master Teacher of Integral Yoga
"I am a graduate of Angel's Yoga Teacher Certification Course. My life was transformed by her depth of knowledge, innate wisdom and genuine coaching support on many deep levels way beyond Yoga postures. This book is a moving, loving meditation of her knowledge, dedication and understanding of Yoga and life. I highly recommend giving yourself the gift of taking the journey within these pages because your life will be transformed on the wings of Grace!"
– Brook Le'amohala, author of Incredibly Delicious Recipes for a New Paradigm and Body Temple Gourmet
"What I love about this gorgeous book is that it embodies its message. Every page exudes an exquisite vibration of light and love… even the ones where Angel implores us to end cruelty to our animal friends. You will experience a powerful transformation just by turning its pages and absorbing the heart-opening energy. Angel's deeply profound and easy-to-implement recipe for radiant well-being includes everything from diet and exercise to honoring the cycles of life; from making your home a temple to communing with the Divine! And her personal stories could be their own engaging novel!"
– Debra Poneman, bestselling author, founder of Yes to Success Seminars and co-founder of Your Year of Miracles
"Feel Good Now is truly a master-peace with countless treasures, that will literally transform your life! It is the distilled nectar of Angel's over 40 years of study, devotion, practice, teaching and embodiment of Divine Benevolence and Spiritual Truths. Feel Good Now is a modern day Bhagavad Gita! It is a quintessential guidebook and golden passport into making the rest of your life, the best of your life!"
– Rebecca McLean, author of The Circle of Life Mind-Body Health and Wellness Coaching System
"This is an in depth study of how to lead a very spiritual and healthy life and be very happy in the process. The tools Angel provides come from her extensive knowledge and experience and should be a must read for anybody seeking personal growth and a higher level of achievement. I strongly recommend it."
– Joseph Sugarman, bestselling author of Triggers
"If I'd not met Angel, I might doubt that such a pure, light-hearted, joyful and deeply kind being existed. Her sensitivities and awake-ness to the subtle energies of healing are unparalleled and could only have come to her through thousands of hours of meditation, yoga, service and devotion. I feel honored to know her and happy to recommend this beautiful offering to support your happiness, health and wellbeing. This extraordinary woman walks her talk and knows of which she speaks. The book has a transmission and I am sure that simply having it near you will begin to lift your spirits, heal your heart and inspire you to make wiser, more life-affirming choices."
– Katherine Woodward Thomas, NY Times bestselling author of Calling in "The One"
Angel demonstrating Flying Yoga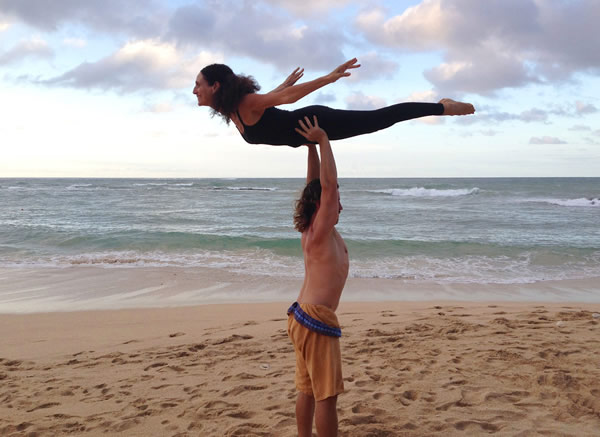 Sending You an Ocean of Bliss!